Company Brief

About a decade of rich industry experience is the base of our success and existence in the industry. Our wide product range encapsulates Rubber Hose Pipes, Epdm Rubber Hose, Radiator Hose, Radiator Hoses, Hoses/Rubber Hoses, Axle Boots, Engine Mounting, Rubber Suspension Bushes, Rubber Bellows, Rubber To Metal Bonding. Our products symbolize engineering excellence, an outcome which gives the best quality of products. We can produce as per the requirements of our clients at prices competitive in the global market.
Offered Products

Shri Vinayak Rubber Industries is manufacturing, exporting and supplying world class auto parts and components made out of rubber and allied materials like Rubber Bellows, Rubber Expansion Bellows, etc. We design and develop all types of:

Rubber Bellows
Rubber Expansion Joints
Hoses/Rubber Hoses
Axle Boots
Engine Mounting
Rubber Suspension Bushes
Rubber Expansion Bellows
Rubber To Metal Bonding
Superior Quality

At Shri Vinayak Rubber Industries, all quality checking tasks are synchronized to perfection. Our in-house quality examination cell is outfitted with the requisite equipments for quality evaluation of the products and materials used.

We accomplish every quality checking work in line with the parameters of international quality norms. Right from the procurement of raw materials (synthetic rubber, natural rubber, curing agents, blowing agents, etc.) to the final delivery of finished goods, quality assurance is given top priority at our concern.
Infrastructural Setup

We have developed a modern manufacturing units which are outfitted with a series of advanced machines and equipments. A perfect flow of engineering skill is shown at all assembly lines by our talented engineers. We ensure timely delivery of products like Rubber Bellows, Rubber Expansion Joints, etc through a well connected transport network across the globe.

The workforce of the company includes well qualified engineers, quality analysts, marketing executives, technicians, supervisors, R&D personnel, amongst others. We owe our success and progress to our mighty workforce. The warehouse of our company is capaciously built and can accommodate bulk goods at a time.

Some important machines at our manufacturing units are:

Hydraulic Machines
Extruder
Mixing Mills
Power Presses
Milling Machines
Surface Grinding Machines
Lathe Machines.
"We are mainly dealing in bulk quantity"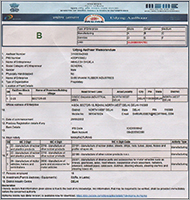 Get in touch with us